Running for Rachael - 10+ Years of Building Hope
5K Walk/Run  | 
Sunday, September 24, 2023  - 8:00
am  | 
CF Lime Ridge, Hamilton
Together we have made significant progress
in advancing the work of suicide prevention in Hamilton, but there is more to do! 
Running for Rachael plays a vital role in supporting the city-wide work of suicide prevention by bringing the community together to promote hope (prevention), help (intervention) and healing (postvention) through crisis support information, training, education and support groups. 
With the help of people like you, we raised $35,563.98 in 2022! Thank you!
Our goal for 2023 is $50,000.
Registration cost is $30 per person or $50 per family
*Early bird pricing is available until August 15th*
How You Can Get Involved in Running for Rachael
Walk/Run as an Individual | Organize a Team | Donate | Sponsor | Volunteer
Impact of Suicide in Canada
Suicide impacts people of all ages and backgrounds in Canada.
*Every year, approximately 4,500 people in Canada die by suicide, which is equivalent
to 12 people dying by suicide every day.
*For every person lost to suicide, many more experience thoughts of suicide or suicide attempts.
*Every day, more than 200 people in Canada attempt suicide.  
*For every death by suicide, at least 7 to 10 survivors are significantly affected by the loss.
Impact of the COVID-19 Pandemic on Suicide
Adults in Canada experienced increased suicidal ideation during the COVID-19 pandemic.
Before the pandemic, in 2019, 2.7% of adults in Canada reported suicidal ideation. In spring 2021, this percentage rose significantly to 4.2%. 
 (source: https://www.canada.ca/en/public-health/services/suicide-prevention/suicide-canada.html)
Suicide prevention is everyone's responsibility
"Running for Rachael holds a
special place in my heart. I understand the benefits of running for my mind and body. But there is something incredible about participating, with a hope-filled community, in an event supporting suicide prevention and making a difference. –
Samantha M."
REGISTER NOW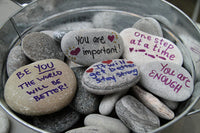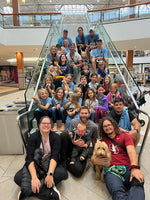 Who Participates in Running for Rachael
Everyone! We invite you to:
Once you have registered, you will receive a unique fundraising link.
*Donations greater than $10.00 will receive an income tax receipt immediately. 
REGISTER NOW
How You Make a Difference
Living with depression, anxiety and thoughts of suicide is challenging but we can come together to make a meaningful difference. Every dollar raised supports hope, help and healing in our community through our city-wide initiatives:
Hope (Prevention)
LivingWorks Start an online suicide prevention training program that will teach you how to recognize when someone is having thoughts of suicide and take meaningful action to keep them safe. 
Help (Intervention)
Be Safe for Hamilton is a
free mobile app that offers information and links to mental health, addiction
and suicide prevention resources in Hamilton. Download the app on the App Store or Google play.
Healing (Postvention)
Support groups for those who are bereaved by loss
due to suicide.
DONATE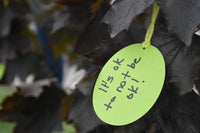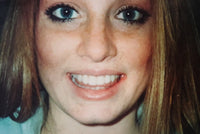 Running For Rachael's Mission
This is Rachael.  She is the motivator behind everything we do.  She lives on through our commitment to bring meaning to her 18 years, by fulfilling her desire to help those who struggle like she did.  Learn more about Rachael's story.
Funds generated will support suicide prevention work in our communities that promote hope, help and healing.
Thank you for your contribution to reduce suicide in our communities and helping start important conversations. 
When a Community Comes Together, Lives are Transformed!
Our partnership with CF Lime Ridge is an important link in helping to engage the community. With Running for Rachael, everyone is part of the team. We celebrate and encourage one another to walk or run to help others. 
Suicide prevention is everyone's
responsibility – be part of the team!
Running for Rachael is brought to you by the Suicide Prevention Community Council of Hamilton Registered Charity #83552155ORR0001