2022 CF Lime Ridge RUNNING FOR RACHAEL on SUNDAY, SEPT 25TH
Running for Rachael, 10 Years of Building Hope!
10 years is an important milestone!   Together, we
have made much progress in advancing the work of suicide prevention in our
city. 
Running for Rachael plays a vital role in supporting the city-wide work of suicide prevention in Hamilton by bringing the community together to promote hope, help and healing through crisis support information, training, education and support
groups. 
Running For Rachael is a community 5K Run/Walk taking place on Sunday, Sept. 25th, 2022 at CF Lime Ridge
Registration is $30 per person or $50 per family. **Early bird pricing is available until June 30th, 2022**
Your registration includes a 10-year anniversary medal and a swag bag filled with great offers from CF Lime Ridge retail stores and local businesses and tons of FUN!
We encourage fundraising and any donations of $10.00 or more will receive an income tax
receipt immediately. 
Create a team with your friends and family or register as an individual      

Help us Spread the Word - CHECK OUT OUR RUNNING FOR RACHAEL TOOLKIT
REGISTER NOW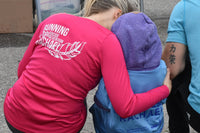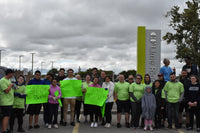 When a Community Comes Together, Lives are Transformed
Our partnership with CF Lime Ridge is an important step in helping to engage the
community.  With Running for Rachael, everyone is part of the team. We celebrate and encourage one another to walk or run to help others. 
Coming Together In-Person! 
We can't wait to meet you in person this year to celebrate our 10th year anniversary!
DONATE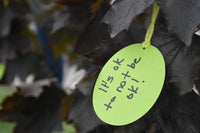 How the funds are used
Last year's Running for Rachael was a virtual event that was critical in supporting our 2022 city-wide suicide prevention work
Hope - Roots of Hope Suicide Prevention & Life Promotion Program.  One of the projects is LivingWorks Start an online suicide prevention training program that will teach you how to recognize when someone is having thoughts of suicide and take meaningful action to keep them safe. 
Help - Be Safe for HAMILTON is a free mobile app that offers information and links to mental health, addiction and suicide prevention resources in Hamilton.  Download the app on the App Store or Google play.
Healing - Support groups for those who are bereaved by loss due to suicide. 

Show us your stuff!

Share your photos on social media by tagging @RunningforRachael10Years and be sure to send messages of hope #RunningforRachael10Years.

Help us Spread the Word - CHECK OUT OUR RUNNING FOR RACHAEL TOOLKIT

REGISTER NOW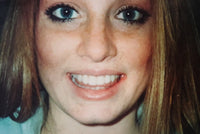 Running For Rachael's Mission
This is Rachael.  She is the motivator behind everything we do.  She lives on through our commitment to bring meaning to her 18 years, by fulfilling her desire to help those who struggle like she did. 
We are doing this by raising funds and awareness around suicide prevention.
Funds generated will support suicide prevention work in our communities that promote hope, help and healing.
Thank you for your contribution to reduce suicide in our communities and helping start important conversations. 
Together, we can make a difference!
The Suicide Prevention Community Council of Hamilton is a registered charity #83552155ORR0001